Art Outside Our Own Door:
Art Destination Amsterdam And Beyond
Amsterdam is a compact city with loads on offer, all within a relatively small area. If you are in for a treat, you barely have to worry about where to steer your exploration, at any given point you won't be far from where you need to be. It's equally true that very likely there will be many occasions when you're going to catch yourself feeling lost – and we think that you're just going to love that. And don't worry, getting lost is part of life here, it even happens to us, the locals who've spent many years of biking and walking through the maze of canals and streets.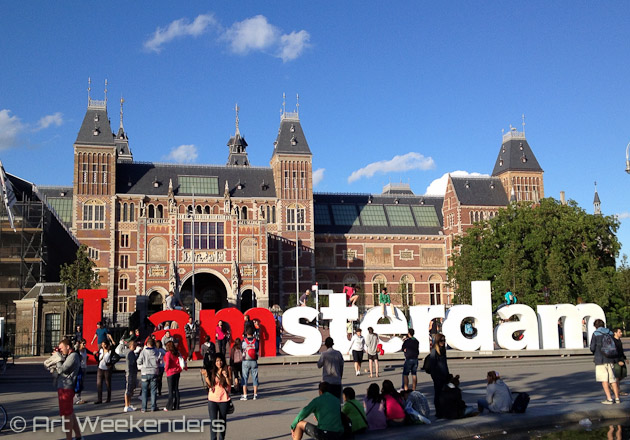 And that we feel is the exact charm of Amsterdam, the endless wandering resulting in that very typical Amsterdam mood, the opportunity to discover something new and unique in every little corner. In fact, even after decades in the city you'll be amazed how much there is that you haven't noticed before. Nonetheless, besides the obvious charm of feeling lost, we're of the opinion that, at least occasionally, it's good to know where you are and where you should be. So we're happy to show you around.
While Amsterdam is not a big place, it's pretty diverse and the different sub-cultures – even within the squeezed centre – will leave you with a totally different feel, at just a few minutes distance from each other. As visitor to the city the likelihood that you'll spend most of your time in the centre, within the Canal Ring, is considerable. However, there are many reasons to be more adventurous and get out of the centre to explore further afield. We will give you a few tips here on our pages.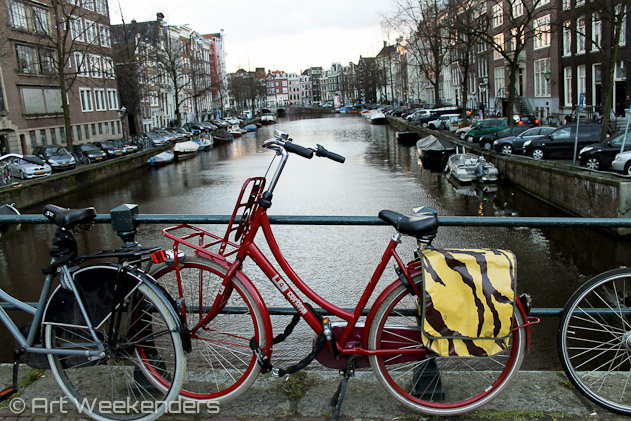 Amsterdam's Crazy Bikers
Amsterdam is the city of bikes and you will notice this as soon as you arrive. Bikes are everywhere, and where you have bikes, you'll have some occasionally crazy bikers among them. When it comes to all the dangers that Amsterdam has in store for you (calm, there are barely any), it's not the lure of the coffee shops that will get you into trouble, not even the risk of falling into a canal. Rather it's the likelihood that you'll be run over by a bike – so make sure your insurance papers are in order. Jokes aside, Amsterdam is definitely not a dangerous place, but watching where you step is actually quite important, bikers and biking is without doubt the most likely risk for accidents you'll face in the city.
Whether you choose to rent a bike or prefer to go for a calm stroll, Amsterdam's neighbourhoods almost equally show their best sides when you experience them without much rush. And don't forget that you can go totally Dutch (no, not cheaply, just meant as the local way of doing it): rent a boat, take a picnic with you and off you go for a few hours out on the canals, experiencing the city from its best side – of course, all this weather permitting.
Centrum – The Heart of Amsterdam
To keep life straight-forward, Amsterdam's actual city centre – Centrum – is pretty well-defined. If you look on a map, the task of identifying it becomes very easy, and very visual: the main definer to the north is the Ij river and the half-circle area inside of the canal ring is Centrum, determined by the most outmost canal, Singelgracht. It's as simple as that. This tilting half-circle is about four kilometres across from the west side to the east, where the Centraal Station – the main train station – is the hub in the middle. From there down south to the southern limits of the Canal Ring – Grachtengordel – the distance is even less, just barely more than two kilometres. Thus, no wonder that the whole area is easily confused for a mini playground, you'll find everything you need – or don't – here.
You would imagine that a small area like this is very homogeneous. But not that fast. While every canal or every street corner will testify that you are indeed in Amsterdam, the nuance differences between the neighbourhoods is still quite striking. If you come out from Amsterdam Centraal at the east side you'll find yourself almost right inside the Red Light District with everything that comes with it. But there's way more and way better farther afield.
Jordaan to the west is a perfect area for strolling around, a spot where you can both feel how Amsterdammers live today and how the city probably felt like even centuries ago – basically, quite a much is just as it used to be. Just south of Jordaan you'll find yourself in the canal district, where especially the area called Nine Streets – 'Negen Straatjes' – will likely capture your attention, both day and night. The southern part of the centre will serve you well if you are out bargain-hunting for some hidden art gems. The area of Oude Spiegelgracht and Spiegelstraat is the neighbourhood of art galleries with a perfect connection to the Museum-District just outside the Canal Ring. The eastern part of Centrum is an entirely different story: here you'll find a good reason for winding down, just wandering along the quiet streets and canals of Plantage.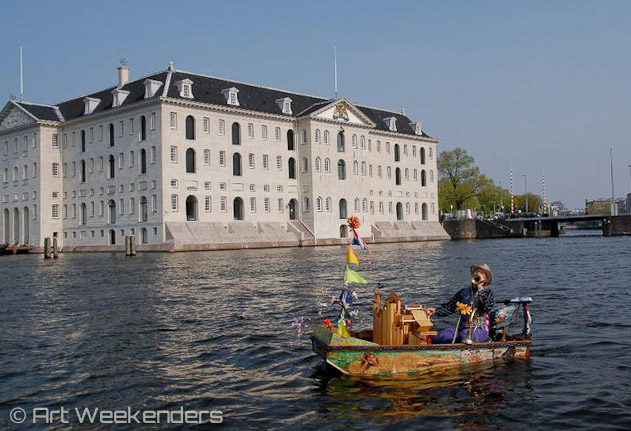 .
Outside Centrum – Amsterdam Discovery Tour
If you think that the idea of being locked inside the Canal Ring is a bit restricting and you want to test out your rented bike to its full potential, there's way more to explore just minutes away. In fact, some of the best areas of Amsterdam are just outside the Grachtengordel (Canal Ring). The main area for any art lover is the Museumkwartier. Technically speaking part of Amsterdam Oud-Zuid, this is where some of the best known sites in the Dutch capital are clustering up: Rijksmuseum, the Van Gogh Museum and the Stedelijk are all here.
Once you're done with the museum visits – and we advise you to spread them out over your time in town – you can always head to Amsterdam's "Central Park": Vondelpark. If you're lucky with the weather, it's almost as big of an experience as hanging in front of a Van Gogh: half of Amsterdam will be here and the atmosphere is pretty magnetic.
Another area that should grab your attention is De Pijp. Today this former working class neighbourhood is a booming bohemian area, where the nightlife seems to start early (for some maybe already at lunchtime) and the spirit is high. Among the main things to do here is to absorb the atmosphere of the Albert Cuyp market or check out what all that fuzz is about with that little beer brand called Heineken in the Heineken Experience.
If you are a fan of modern architecture, it's time to head east, and getting there your bike will really come handy (and you lazy bunch out there, trams will take you here as well, don't worry). The Eastern Docklands ('Oostelijk Havengebied') is an area that went through some drastic – and exciting – changes just in the past couple of decades. Here you'll find modern architecture and design of all sorts, blending in nicely with the historic heritage of the area.
Another area that recently – and continuously – is transforming itself is Amsterdam Noord. This is an area you'll usually reach by ferry and it is very different from the rest of the city. Even Amsterdammers consider it an oddity, but things are slowly changing. Just across from Amsterdam Centraal you'll find the modern Eye Film Museum. It's a fantastic building in all its majestic whiteness on the water. Since we all know that the inside matters the most, you won't be disappointed once you get in either.
Outside Amsterdam – Welcome to the Real Netherlands
Amsterdam is a small but very diverse city. In fact, it's said to be the home of people of 178 nationality backgrounds, depending on whose statistics you use. Indifferently of which stats are the most accurate, Amsterdam is a highly cosmopolitan city, where it's extremely easy to melt in and enjoy yourself. So is the rest of the country, but for totally different reasons.
Just minutes outside Amsterdam, you will be met by a completely different culture, be it the bourgeois quaintness of Haarlem, or the touristy but fairly authentic feel of the villages north of town in the Waterland (Volendam, Marken, Monnickendam or the windmills of Zaanse Chans) or the  'cheese town' of Alkmaar, or in spring maybe the flowers of Keukenhof. The Netherlands is a small country, so even a city like Groningen in the 'far north' is just a couple of hours away. If you have time for it, there's a lot on offer around the country, well worth a visit.
---
We are adding new content about Amsterdam to the website regularly. To stay on top of new stories and information, please follow us on Facebook, Twitter or Google Plus or subscribe to our newsletter with stories, special offers and previews of upcoming events from around the world of art and culture.
---