How To Spend Half A Day in Lisbon
It happened a few times now, actually almost upon every trip we take. Arriving to a new place – country, city, you name it – and we come to one and the same conclusion over and over again: "you know, it would be really fun to live here". We're suckers for the new, it's just simple like that and since we have been active with Art Weekenders it only accentuated, possibly also because we travel with different kind of eyes. Having our site to care for I can safely say that we care more for the places we visit too.
Lisbon – A Livable City
No exception with Lisbon. Neither of us have been in the Portuguese capital for some 15 years and while we only had one afternoon in Lisbon to reacquaint ourselves with it now, on our way to a West-African experience in Ghana and Togo, it felt like we almost wanted to skip all other plans and stay behind. Lisbon is great, Lisbon is intriguing and, yes, of course we could live here too… We will in any case surely be back soon enough in Portugal, there's a lot on our list to get better acquainted to. Until then we'd like to already now share some snapshots from this city on the seven hills with a rich history to look back upon.
I think it's fair to say that it takes some time to figure Lisbon out. I remember thinking that the first times visiting it, and now it felt true again. Be it its geography, the transport system or the national psyche, there are some complexities on offer here. I think that is also the reason that occasionally I hear people not feeling immediately convinced about it. This observation always surprised me.
For the ones who'd like to simplify it, the parallels to the melancholic 'fado' quickly springs to the mind. It's true, people are fairly reserved, almost introverted. It's an observation I often made about the Portuguese who I knew privately or through work. They are often subdued, way more quiet than most other people you meet. What is also true that once they get your attention, the Portuguese tend to be super-friendly.
Lisbon in Two Areas: from Belém to Alfama
With this in mind, let's venture out for our half a day in Lisbon. Of course, a few hours are never enough. It's quite likely that even a month wouldn't feel adequate to explore Lisbon and its immediate surroundings. You'd still be surprised how much you can fit into a spring afternoon. For the sake of simplifications we'd like to say that there are two concentrated areas that covers a good chunk of the highlights. The historic centre with the hilly Alfama district around the São Jorge Castle is the main one. The other one is the riverfront suburb of Belém, with its 500 years old famous tower and its museum-district in focus.
If you'd like to combine the two, just like we did, in one afternoon our recommendation is to venture straight out to Belém. If you have a hotel stay in your plans, quite likely you will be located downtown or in the more business-like but fairly dull area around Avenida Da Libertade around Entrecampos/Campo Grande. Whatever is the case, your best choice to reach Belém is by taking a bus (line 727 is a good one). It's about half an hour to get out from the centre and from the relative comfort of the bus it's easy to get a good feel for what the city is about.
Bus-ride to Belém
You will see the modern replacing the old, you will see the old staying old. You will see the signs of time and the winds of change. Most importantly, it will give you some varied snapshots of what Lisbon is about. On the way down, if you are around Marques de Pombal on Avenida da Libertade pay attention to the left (or have a stop if you are still early on in the day): there are some fantastic street art murals (aka the Crono Project) to check out here, world-class and with an added value to the cityscape.
Belém – World Heritage & Modern Art
Out in Belém jump out at the Monasteiro de Jeronimos, one of the oldest structures of town and one of the two UNESCO World Heritage sites of the city. This old monastery from the 15th century is a dominant structure of Belém with extravagant façades and a rich history, today housing a museum. If you'd like to test one of the local Portuguese culinary highlights, the pasteis de Belém – a pastry filled with caramel that is heavenly and originates from the store with often way-too-long lines – is situated just steps from the Monasteiro.
This part of Belém is a cultural hub of the capital with several museums. For the art lover in you, we'd strongly recommend to visit the modern art museum of the city, located in the Belém Cultural Centre (CCB). The Museu Coleção de Bernardo is actually world-class. Even if it would cost a decent admission fee it would be worth it, but since admission is free we just wonder why you would even hesitate. Be it a hot summer day when the shelter of the museum will cool you down or just your interest, the collection of 20th century art is rich, well-curated and highly satisfying.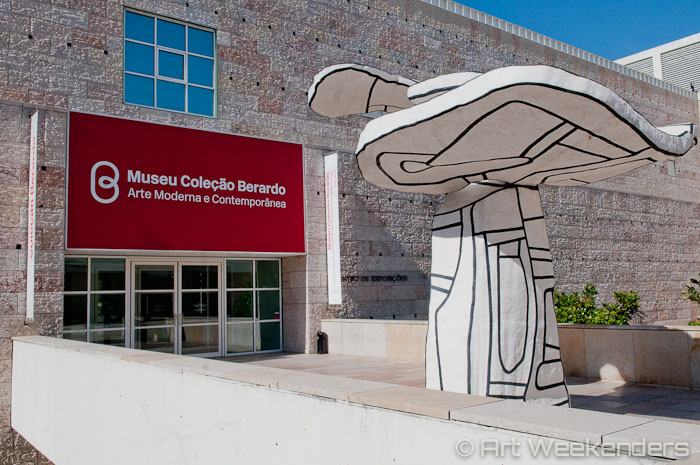 Once done you can just as well head down to the riverfront and locate the second World Heritage site of the city: the Tower of Belém. Celebrating 500 years of existence this beloved symbol of the city is a nice spot for picturesque moments, a glimpse of the Atlantic and some reflections about the maritime history of this country and a fresh sea-breeze in your face.
We still had enough time to stroll back along the river Tejo, where on the way back the sister-bridge of San Francisco's Golden Gate is taking up the view, with the Christ statue (built in the 1930's, very similar to the one serving as the symbol of Rio de Janeiro) on the other side of the river. The April 25th Bridge is a modern symbol of the city, where modern architecture takes an ever bigger role in general.
Walk towards Lisbon's Golden Gate Bridge
Along your walk you will also come across a modern symbol of the city, the statue for the memory of the sailor and the discoverer of the sea route to India, Vasco Da Gama, who departed from this very spot, now more then 500 years ago.
While it will take a bit of a longer walk, but soon before the bridge there's an art gallery worth visiting, in fact what was the main goal of our trip to Belém. During the spring and summer of 2015 the exhibition 'Genèsis' by Sebastião Salgado was hosted here, a momentous and beautiful tribute to our planet by the award winning photography giant. His 250 black and white large scale images are among the best you will ever see of our planet in one room.
After Belém it's high time to head back to the past and find your way into the steep hills of the old town. If you'd like to do it in style, we highly recommend you to find the departure point of the historic 28E tram. Via this historic mean of transportation, an inheritance already from the end of the 19th century, you will have a unique chance to see the curling picturesque streets of Chiasco, the Baixa and eventually Alfama.
Alfama at Sunset
Alfama is the historic quarter that best preserved the atmosphere of the past, largely since it was spared by the devastating 1755 earthquake that demolished a huge part of the city. Alfama is there to be lost in. This is the neighbourhood where the Moorish, Muslim community lived after the Christian conquest of Lisbon and architecture-wise not that much changed since. The views you'll come across are splendid, and if you come here, like we did, around sunset you will have many reasons to count yourself lucky. The São Jorge Castle is open until 9 pm in summertime, so for the best view in town you should have enough time to climb the final bit to the fortified walls and the inner castle area.
We didn't, the lure from the restaurants and the sound of our stomachs started to distract us. Alfama is the home for many of the fado restaurants of the city. While we won't say for sure, but it felt like many are mainly catered for the tourists, so if you'd like to choose the right spot, we recommend you to do your research. We opted for a place called Le Petit Café, and we can say at once, we were not disappointed at all. In fact, it was highly enjoyable, with friendly service, excellent food, tasty wines, cosy atmosphere and good prices.
To finish off our half a day in Lisbon, the final walk down towards the Praça de la Constitucion could easily take you past the Catedral de Sé and the occasion to admire the narrow streets of Alfama illuminated. Not a bad way to round off a day in Lisbon with, really.
Our reacquainting with Lisbon was greatly enjoyable, and now we know for sure that we will soon be back. If we gave you the idea now to book a trip over there, we are confident that you will find it a good choice too.
Lisbon Practical Info
Lisbon is an easy city to be in and it's fairly easy to reach. The main Portuguese airline, TAP, serves most European major cities and the network of other airlines flying there keeps on increasing, including many budget airlines.
Hotels are of pretty good value, for €50-60 you can already get a decent enough double and around the €100 per night you should be able to stay "royally".
The city is cheap in general, eating out in style with a main, some basic starters and a couple of glasses of tasty vinho verde or some other classy Portuguese wine won't cost you much more than some €25-30 per person and you can easily eat well for half that price even.
Using local transportation is easy, quick and covers most of the city. We recommend you to get the 24-hours pass for the decent price of €6 Euros per person, valid on the modern and partially new metro system, almost all buses and most of the city's trams (except the touristic ones, but valid on the great 28E, which counts to the city's integral network also used by the locals). Make sure you get one ticket per person and not loading two 24-hours tickets onto one card: we made that mistake and you will end up with one 48 hours pass and one of you with no ticket all.