Selarón's Stairs
The Story of One Man's Accidental Life Project
What could be – and used to be – a great demonstration for the small joys in life, is since January 2013 a reminder of a tragedy. This artistic, quirky force majeur created by one man, is one of the most colourful art experiences around, and certainly in Rio. Selaron's Stairs (or locally Escadaria Selarón) is the accidental art work of the Chilean-born artist Jorge Selarón. Selarón came to Rio in 1990, poor and with no real purpose in life. He started out the renovation of the 250 steps connecting Lapa, the neighbourhood at the outskirts of downtown Rio, with the hilltop neighbourhood of Santa Teresa.
Initially it was a side project of the artist's alongside his usual passion, painting. Before he realised it, the stairs became his mission in life and he ended up spending the rest of his time working on continuously improving them. Initially the decoration was carried out with tiles and ceramics he found around town. Later the tiles decorating his stairs were sent to him by people from the entire world, still to be witnessed today.
You'd be amazed how many different tiles you will see here, from the most unthinkable corners of the world even. A clear evidence that the man didn't leave anyone untouched. Selarón's commitment to his project was both admirable and touching. When you visited the stairs, the likelihood that you would bump into the artist himself was extremely high. Selarón built his entire life around the stairs. When things started to go well for him, he was embraced by the city itself as well and soon enough he was able to open a little shop halfway up the stairs to Santa Teresa. This little shop is a little haven, where souvenir hunters can find something unique, with a personal touch right from the scene.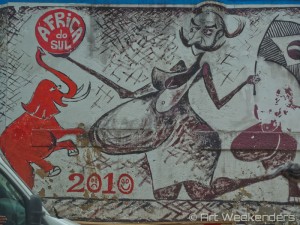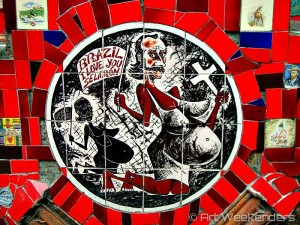 It all ended in the first half of January 2013, when the artist was found dead, right there on his beloved stairs. The story goes it was an act of suicide, as a result of a conflict with a former business partner, resulting in life threats and eventually a serious case of depression. A tragic faith that truly deserved a different ending.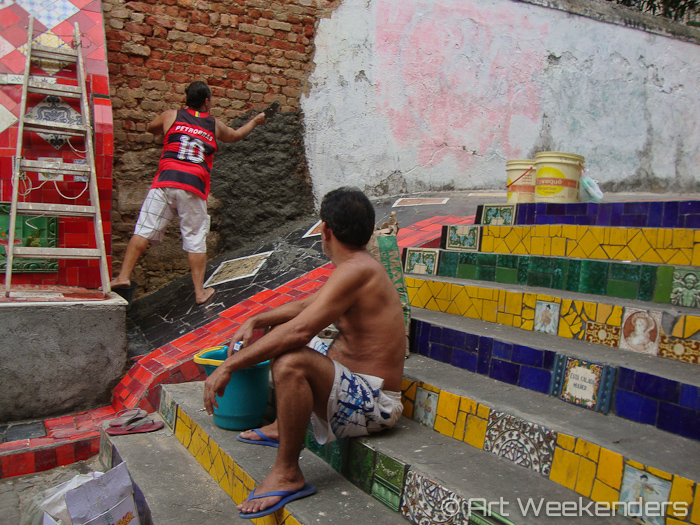 While alive Jorge Selarón could be found on his stairs where he happily posed for pictures and chatted away with visitors. What the faith of his stairs will be, remains to be seen.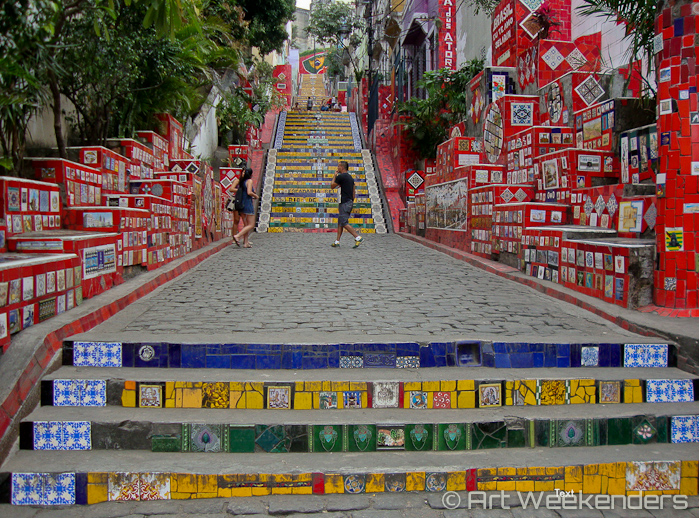 When visiting Selaron's Stairs
The neighbourhood where the stairs are located is fairly dodgy, so use precautions. Especially at the upper, Santa Teresa end of it, the shadier characters of the city are drawn here as well and not just the increasing numbers of tourists.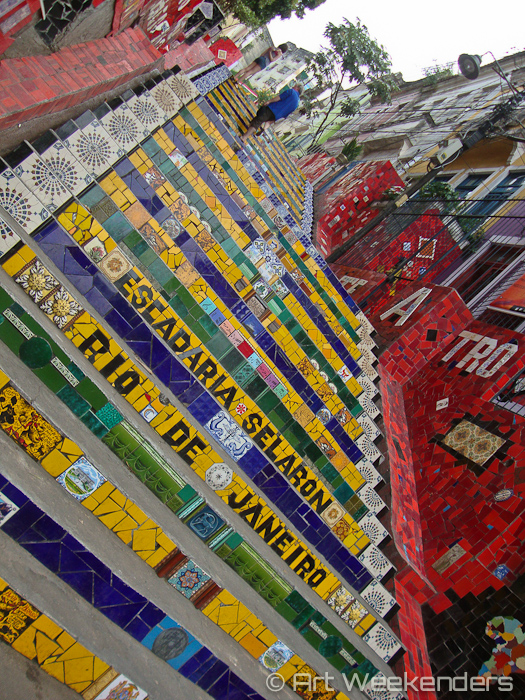 Have you been to the stairs recently? What were your observations, what do you think will be the future of the stairs now that the artist, the brain, the heart of the project is gone?
---
If you like to read more about Rio de Janeiro, here are some more posts to read:
Rio de Janeiro's Neighbourhoods – A Cultural Geography Tour
21 Art Museums in Rio Not to Miss