Jump the Long Museum Lines – via your Phone
Musement App – The museum shortcut for Every Traveller
Recently we came across a new travel service provider with a smart phone app at the core of their business, especially designed for the cultural traveller. Right, that's our target group and this with technology is always a bit extra interesting. So we got curious, hence we decided to look a bit further into the matter. What we found was a great product with many wins for the end-user, that is you. Sounds interesting? Read on further – and feel free to try it out, until the end of June we have a small special offer for you.
There you are, with a few limited hours at your disposal: you jiggled around your schedule to be able to squeeze in this great museum you always wanted to see, you skip breakfast just to be able to have more time to enjoy the works you so look forward to see, you arrive at the place well on time before the gates open… All according to the plan, except that once you are at the museum you're met by this:

Disappointing? Sure. Surprising? Hardly. This scene from Amsterdam's Van Gogh Museum from a typical morning in May is by no way unique, in no way exaggerated – and certainly in no way much of fun to experience. Travel to any of the major European destinations like London, Rome, Paris, Florence and a long line of others and the scenario will be the same, or possibly even worse. Long lines with long waiting time is the norm and not the exception for today's travellers. While it's a great thing that people travel more and the general interest for cultural activities keeps increasing, the venues are not getting bigger and to accommodate all visitors queuing is therefore inevitable.
Thus, finding a way around these queues is one of the challenges for today's travellers. Jumping the line might be an option… but we're very sure you won't be very popular, with others in the line and certainly not with security. However, there's actually one very convenient method for skipping the queue: using the new service offered by the company Musement, especially via their mobile app you can download for free on iTunes.
Being actors in the field of cultural experiences, just like Musement, we often wondered when the right solution would come, so it was a welcomed encounter when we recently came across this service. The world is changing with the technological developments and while we regularly complain about it, we also love the benefits it brings to our lives, especially when it's a product well carried out.
What Musement brings to you
Since we immediately felt that this is a product that can be useful for us and also for our readers, we decided to understand it better and give it a go. In line with our philosophy of recommending products we care about, it felt that this would be a service we'd like to stand behind. What we found is a product that's convenient and easy to use, a total win for the user and besides being a great service for what you need, it also serves very well as a tool for inspiring you further for other activities to do.
Musement's app is free to download from iTunes and the rest of the process is very straight-forward. For a service like this one to be worthwhile it's very important to have a broad range of attractions to offer and Musement certainly delivers on it. The actual online booking possibility might not be fully unique, many museums offer it these days, but having the luxury of always knowing what to expect and how to do it is actually a first. The museum world is a very scattered market and Musement is doing a serious effort to simplify and make it an always recognisable process for the visitors. All that in an attractively designed – and functional – packaging.
Why Musement is a total win for you
The best way of experiencing a product like this one and see if it's really worth your effort, is seeing it working in real-life. While playing around with it we decided to see what happens around that line we saw at the Amsterdam's Van Gogh Museum. With phone in hand we planned the day.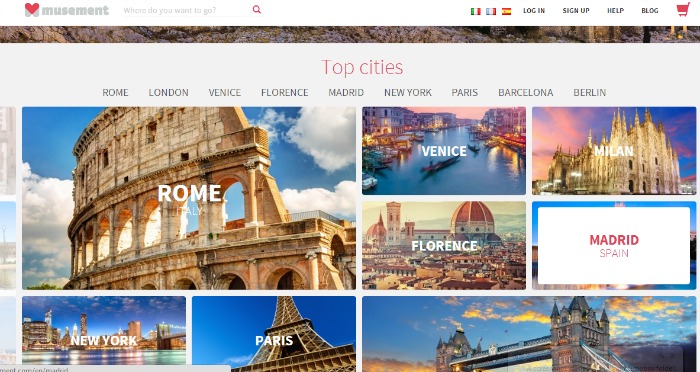 Choose the product you want: the best grade for a smart phone app these days is that you never even have to think about what you need to do, all is being taken care of intuitively. That's the case with Musement's app: once you open it up, within a few minutes you have your ticket purchased and you're ready to go. Selecting the venue you'd like to visit is taken care of with an ease, the description of the attraction is accurate and the risk for confusion is non-existent. Among many other features, for instance it also tells you how far away from the place you are.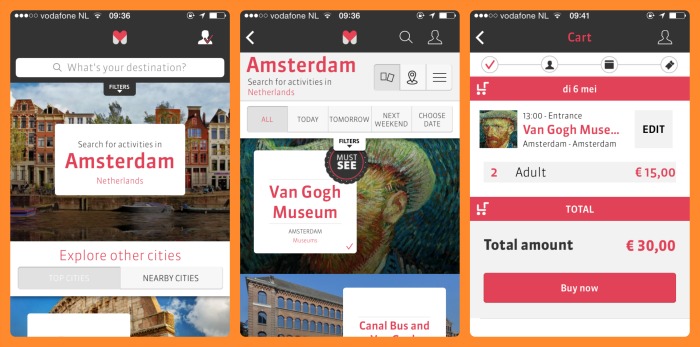 Booking and payment in a few clicks: once you know what you'd like to visit or take part in, the rest goes very quickly. You select the day and the time you'd like to go (if flexible, for some events like concerts, of course, you'll have to follow a schedule) and the rest is a few minutes work. Creating an account takes a few minutes, you can set it up with the help of your Facebook account, or manually, it's totally up to you. The choice of payment method is the usual simplified credit card set-up: MasterCard, VISA, American Express and yes, even PayPal works. Simple and secure. It's up to you if you'd like the app to store your data, if you do, the benefit is that the next time around the whole purchasing process goes in less than one minute.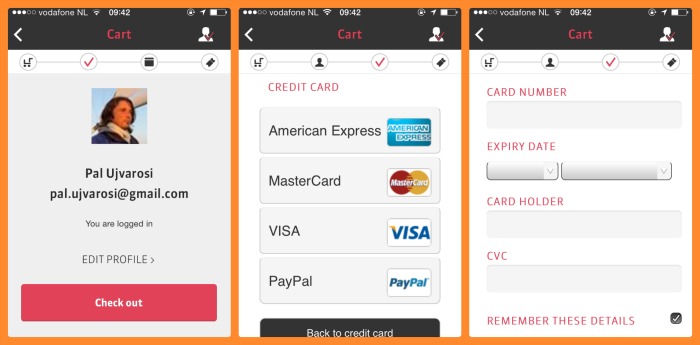 With e-ticket in "hand" through the fast-lane into the museum: that line on the picture above? For us it was "invisible" once armoured with the Musement app. Once we got to the museum entrance within less than a minute we were inside and could look at Van Gogh's sunflowers. Later, out of curiosity we asked people who made the line how long it took: the general answer was about half an hour, and we've learned from the staff that this was actually a quiet day…
When approaching a product review it's inevitable not to use critical eyes. Even if already your initial gut feeling tells you that it's likely a product you're going to enjoy, the skeptic in you will be alerted to scrutinise. And we tried, but the thing is we were happy with what we found.
The selection on offer is rich, with all the major European cities all represented with their major sights and venues they usually attract the visitors with: Rome, London, Paris, Florence, Venice, Barcelona, Berlin, Istanbul and many more. And yes, even New York, although for now this is a service mainly for travellers through Europe.
The design of both the app and the website is great and easy to use. It's an Italian company after all, style is key. The technical and service aspect of it worked like well and by the way, the app also works offline, which for international travellers who want to avoid roaming charges, is a great plus. Also knowing that the prices are so competitive that even if you would happen to come across a cheaper option, they guarantee to compensate you for it and even offer a discount.
The good thing is that both the app and the website are a great way of inspiring you. Once you're done with an event it's easy to browse through what else there is on offer and let yourself be inspired for other places to go to.

Give it a go: all to win, nothing at all to lose
The summer is here, the travel season is upon us and just like you many others are packing to hit the road, ready to experience new things. But remember that line from the beginning of this post? Well. As always we think you should enjoy the pleasures of life and not spend your precious time in lines on the side of dusty roads in a summer heatwave or a hefty summer rain. So go ahead, download the Musement app, it's totally free and it's not only useful but pretty fun too. To understand the product better we also recommend you to go through Musement's FAQ, it's always an advantage knowing about the parts we can't cover here and for you to make your own judgment.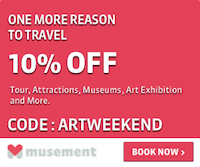 Once you have it on your phone and you start using it, you might even come across an event or a venue that matches your plans, be it a visit to the Uffizi in Florence, or a guided tour through the Louvre in Paris, the app is there for trying it out. If you do, we have a special offer for you, our readers: you get 10% off on all purchases until the end of June (2014) , all you need to do is to fill in the code "ARTWEEKEND" upon checking out with your in-app purchase. Easy enough, right?
Once you tested the app, please drop us a line, we'd be happy to hear your experiences. Also, we are constantly looking for great products to review, be it other smart phone apps, services or physical products. If you know of one, please let us know.
[ale_divider style="thin" text="notext"] Divider Text [/ale_divider]