Art Highlights in the City of the Canals
The Big Six among the Amsterdam Art Venues
You have too little time with too much to fill it with? Amsterdam, just like any other city, has loads to offer, but it would be a shame saying that certain things are not just that much more fantastic than some others. It's not to make anybody upset, it's just how it is. Currently, the six certainties on our list of must-visit Amsterdam art venues are maybe not that adventurous for a choice, but on the other hand all six are outstanding and would be impossible to leave out.
1. RIJKSMUSEUM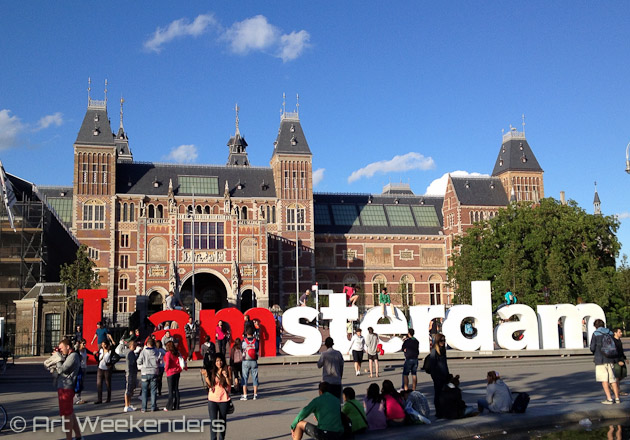 If this is your first-time visit to Amsterdam, the Rijksmuseum is one of the museums that is almost a must to visit. If you have been to Amsterdam, but you haven't been able to visit it yet, than we strongly recommend you to go next time you're in town. After having been closed for 10 years due to renovation work, the museum opened its doors again in April 2013 and the result you'll just have to see by yourself.
Since its opening you'll not only be able to visit the tastefully renovated museum again, you can also pass it underneath when walking or cycling from the centre to Museumpark or vice versa. This is especially a delight for the locals that often use this throughway on their regular cycling route into town, so when wandering around near the entrance, watch out for the cyclists!
The Rijksmuseum is world-renown and about one quarter of its collection is dedicated to paintings from the Dutch Golden Age. You'll be able to see paintings made by for instance Rembrandt, Vermeer and Frans Hals, among which the famous Nachtwacht (translated as 'Nightwatch').
Address: Museumstraat 1
Website: www.rijksmuseum.nl
Opening Hours: 9am to 5pm daily, open 365 days a year. Ticket desk closes at 4:30pm.
The Rijksmuseum Gardens, cafe and museum shop are also open to visitors without a ticket from 9am to 6pm.
Admission: Adults: € 17,50. Free: children aged 18 and under, Museumkaart holders, members of ICOM, ICOMOS, UNESCO, the Rembrandt Association (Vereniging Rembrandt), KOG, Vrienden van de Aziatische Kunst and Vrienden van het Rijksmuseum. CJP, Stadspas, EYCA: 50% of the normal entrance fee.
2. Stedelijk Museum
In Amsterdam there is probably only one re-opening that has been more awaited than the inauguration of the renovated Stedelijk Museum, and that is the new metro-line that's still nowhere to be seen. Thankfully for all art lovers, the job with the Stedelijk is finished too – with a few years delay but nonetheless – and the end-result is there for everyone to admire.
The attractiveness of the actual exterior of the building is up for debate: some find it marvellously slick, others find it more like the bath tub in the land of giants. What we can assure you of is that it definitely gives a way more positive impression in real life than looking at it on pictures.
But at the end the inside is what really matters, isn't it? No exception here, and you have a treat to look forward to once you enter. It's not only what's on display that makes the experience fantastic, it's also how things are displayed. The interior is made very spacious after the refurbishment with plenty of room for visitors and art objects alike, making the displays attractive. Once you're done, hanging in the new foyer for a meal or for some shopping is a true enjoyment.
Address: Museumplein 10
Website: Stedelijk
Opening Hours: Daily 10 am until to 6 pm, Thursday until 10 pm. Please check website for holidays.
Admission: varies per exhibition, prices here are guidelines.
Adults: € 20. Students (til 30 years), CJP: € 20. Children and youth until 18 free. Museum Card: normally free, unless special exhibition.
ICOM – Stadspas – I Amsterdam City Card – Holland Pass: free.
3.      van Gogh Museum
One thing you will need to do while in Amsterdam: make sure you can pronounce the name of the most famous Dutch artist properly. While you don't have to be in the Van Gogh museum for that, it's certainly the right environment for your practicing. On the other hand, we don't want you to walk around talking out loudly, it might not be that appreciated by other visitors.
Vincent van Gogh is undoubtedly one of the main names of modern art and consequently the museum is visited accordingly: almost always crowded. Therefore, it's not a bad idea planning your visit for the early morning hours, especially in high season.
The main attraction of the museum is undoubtedly its permanent collection. While the temporary exhibitions – housed in the Japanese financed annex of the main building – are definitely worth visiting as well, they usually attract less attention.
Address: Paulus Potterstraat 7
E-Mail: info@vangoghmuseum.nl
Website: Van Gogh Museum
Opening Hours: Daily 9 am until to 6 pm. Friday until 10 pm. Please check website for holidays.
Admission: Adults: € 17. Children up to 17: free. ICOM members – Museumpass: free. Discounts with Holland Pass, City pass (Stadspas) and CJP.
4.      Foam
Photography is a relatively new art, but given that in today's world it is the "discipline" practiced by most people, there are surprisingly few museums dedicated specifically to the art of the camera lens. Foam is one of them, and among the few internationally renowned and respected ones.
Situated right in the city centre, in a canal house right on the Keizersgracht, it's a creative hub for the photographer community of The Netherlands. Foam – or as officially called, Fotografiemuseum Amsterdam, you see where the name is coming from I guess – is a relatively new addition to the Amsterdam art scene. Founded in 2001 and officially opening its ports on June 6th 2002.
The museum generally speaking has four different exhibitions simultaneously, whereof every year four large exhibitions take the centre stage. In these main attractions the attention is paid to the big names within photography, some of the most famous ones on exhibit so far were Richard Avedon's Photographs 1946-2004 and Henri Cartier-Bresson's 'A Retrospective'.
Address: Keizersgracht 609
Phone: +31 (0)20-5516500
E-Mail: info@foam.org
Website: FOAM
Opening Hours: Daily 10 am until to 6 pm. Thursday and Friday until 9 pm. Please check website for holidays.
Admission: Adults: € 10. Students/65+: € 7,50. CJP: € 6. ICOM members – Iamsterdam City Card – Holland Pass: free.
5.      EYE Film museum
Across the river from the Amsterdam Centraal main train station these days you can quickly spot the newest addition to the architecture and art scene of Amsterdam: the EYE Filmmuseum. No wonder that it quickly grabs your attention, it's a beautiful and interesting building that quickly catches your imagination and somehow pulls you across the river, lures you there for a visit. And you know what? It's well worth it.
Only opened in the spring of 2012 it already has a reputation, and for such a new place it already has a lot of history to lean back on. The explanation is simple: while the new building is indeed a recent addition for Amsterdam, the Filmmuseum has existed in its former location in the heart of Amsterdam's Vondelpark for decades. It has been a beloved institution for local and international film lovers alike and there were fears that the soul will be missing. Luckily, the upgrade resulted in a refreshed outcome: a vintage soul with a modern face. Not a bad combo at all.
Alongside the classics, the EYE also screens new independent releases and hosts special evenings dedicated to experimental film and other genres. It also acts as a national archive of film and as curator of the history of the cinema, while also having imaginative exhibitions on display, which regularly change. Did we mention the excellent terrace outside the Eye already? Even if you are not that much into movies, or just don't feel like it, this is a perfect place to wine and dine on a sunny day.
Address: IJpromenade 1
E-Mail: info@foam.org
Website: Eye
Opening hours for exhibition: Daily 10 am until to 10 pm. Friday and Saturday until 11 pm. Please check website for holidays.
Movie screenings open by night as well.
Admission: Can vary depending on the exhibition and movie, prices here are guidelines.
Adults: € 12.50. Reduction: € 10. Museum Card: € 3.50.
6.      Hermitage Amsterdam
There's a little bit of Russia right in the heart of Amsterdam, in a fantastic location along the Amstel river. This is the Dutch branch of the world-famous Hermitage in Russia's Saint Petersburg, owing its existence to the fact that Tsar Peter had a special relationship to the Dutch city, having lived here for several years. Some of the exhibits at the original Hermitage were items the Tsar acquired while living in the Netherlands.
Back when the original Hermitage opened its doors to the visitors, they got offered a free shot of vodka to entice them inside. Today you're not that happy, it's not the general practice, but you'll find other things to entice you.
Items on display are part of the permanent collection in Russia and are displayed here on a rotating basis. Its exhibitions are usually of high profile and attract a lot of attention, be it for its historical value in relation to Dutch-Russian relationships or the uniqueness of the building itself.
A fun extra of the Amsterdam branch is the special children's section and the regularly held workshops focusing on fun and creativity. For the young and the old.
Address: Amstel 51
Phone: +31 (0)20-5307488
E-Mail: mail@hermitage.nl
Website: Hermitage
Opening Hours for exhibition: Daily 10 am until to 5 pm. Please check website for holidays.
Admission: Can vary depending on the exhibition, prices here are guidelines.
Adults: € 15. Reduction: € 12. Children until 5 years free. Children until 16 years € 5. Iamsterdam City Card – Museum Card: free
TIP: If you're visiting more than 3 museums, you may want to consider buying a Museum Card. This card is valid for one year, so when you return to Amsterdam within a year, you can still use it. The MuseumCard is usually available at the participating museums. Another option is the IAmsterdam City Card, which besides free entrance to participating museums also gives discounts on numerous attractions and free transport through town.
[line]
We are adding new content about Amsterdam to the website regularly. To stay on top of new stories and information, please follow us on Facebook, Twitter or Google Plus or subscribe to our newsletter with stories, special offers and previews of upcoming events from around the world of art and culture

[line]