Yes, you can admit it. The first places coming to mind when thinking about visiting Belgium are Brussels, since it is the capital after all, Bruges, since this is Belgium city-tourism condensed into a medieval centre hard to leave, and then probably Antwerp, maybe because "diamonds are girls' best friends". We believe it is time to open up the eyes for another gem on the Belgian flatlands: Ghent.
We confess, prior to our visit to Ghent for us the Belgian city ranking was also aligned pretty much as per the above. After our visit we are happy to report back that we think it is a city well deserving a spot in the limelight, and more, without the need of any comparison. We enjoyed Ghent, a lot, and everybody we talked to since coming back shared the same view: Ghent is a beautiful gem. We would like to state that it is also very authentic. The city has a lot of beauty on offer, but it staunchly prefers to have it as part of life rather than a medieval memento kept on display.
We can right away conclude that Ghent is a perfect weekend destination. Bring your list of boxes to tick. Many won't be unchecked, when the city is all summed up. There is plenty to see, for starters, but there is plenty to do as well. This is Belgium, after all, so your choices for dining and drinking will be plentiful as well. So far, so good, right? So let's start looking into what you can expect.
Ghent at First Glance
Already upon arrival to Ghent we felt an immediate attraction to the city. Then it is still to be kept in mind that the Sint Pieters train station isn't even in the city centre. It is rather a good half an hour's walk from there. Sint Pieters Station, located in the southern part of town, is one of the two serving the city. The other called Dampoort is slightly to the east of the centre, in a part of town going through some serious urban development.
The first impression we got, when walking towards the centre is of a lush, pleasant place with wide streets and interesting architecture. Once in the centre we really realized why our decision to come here wasn't, mildly put, a waste of energy.
So what makes Ghent so special? What can we say about it that puts it apart from other places? And most importantly: what shall you do with your time once you are there? To help you out, we put together some main categories for you, the visitor, to delve further into.
General Impression of Ghent
There are many reasons why we consider Ghent a perfect weekend destination. For starters, it is perfectly sized. We experienced, it is easy to cover by foot during a 2-3 days' span, while still having plenty of time to enjoy it around food and drinks. It is Belgium, you know! Enjoyment is high on the agenda in this city. Gentenaars consider themselves good at it. The people from the city have quite a reputation, in the most positive way. Gentenaars are said to be quirky, proud and approachable, often expressed in friendly directness.
From what we have seen, we have no reasons for doubting it. The atmosphere in the city is friendly. People are approachable and diversity is part of life. The locals built up a reputation of tolerance over the centuries. It is a place where foreigners chose to live and where artists and intellectuals always felt welcomed.
Ghent is also a huge student city, which is visible all around town where the quirky youthfulness is everywhere. We have heard somewhere a saying that the local men are fashionable and women spontaneous. Well, we choose to believe this, all around atmosphere is great.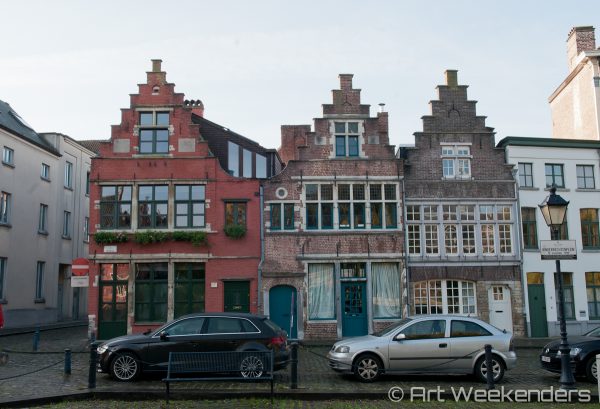 So now that we know that you will have beautiful quirky people to deal with, we can also conclude that the setting they created is memorable too. Ghent is a lovely, attractive-looking city. Its architecture is stunning. Traces of history can be found everywhere. Best of all maybe: it doesn't feel forced or artificial. Ghent feels genuine, liveable and made for people to live and enjoy. It is not just for visitors to come, buy their chocolate and leave with their snapshots.
Guess we are getting convincing that you end up in the right place if you get here – but what's there to see then?
Ghent's Most Memorable Sites
We are convinced that you will walk for hours through the city centre, and still not have enough of it. The heart of Ghent is the so-called Graslei and Korenlei on the bank of the Leie River. Here the Sint-Michiel Bridge will take you a few times across the river during your visit. Some other major landmarks you will impossibly miss are the Belfry, towering over the city, the Sint-Niklaas Church on the square with the same name, and the unmissable St. Bavo (Sint-Baaf) Cathedral, with a hidden gem that could be said changed the art world forever. More about this hidden gem will follow further down in this guide.
Ghent is a city where the rivers always had an important role in its development. Even the name witnesses thereof. Its current Flemish name, Gent (Ghent for the English-speaking world to avoid any confusion with any gentlemen), derives from the originally Celtic Ganda, meaning confluence. Ganda is used to this day in different settings, like the tasty local delicacy, the Ganda ham.
Art Destination Ghent
Welcome to Ghent of the art weekenders. Well, as you would figure, for us a weekend in any city wouldn't be much without some fun art experiences. Thankfully, Ghent is a great destination in that respect as well. Just south of the historic old town we found the Kunstenaarskwartier, or Artists' Quarter. While this is mainly a highly residential neighbourhood, it is also the home to some of the best art galleries in the city. Also, just adjacent to the city centre's best green area, the Citadelpark, are the city's two best art museums.
The S.M.A.K. – Contemporary Quality Art
The SMAK – the Stedelijk Museum voor Actuele Kunst (City Museum for Contemporary Art) – is Ghent's best renowned museum, especially since it has a reputation to be more daring than your usual art institution. Known especially for its provocative exhibitions, it also has an important permanent collection, with art works by Andy Warhol, Karel Appel, Francis Bacon and many more.
Open since 1999, the museum is a popular Sunday hangout for the city's art buffs. It is especially a good place to visit when the Belgian weather might get in your way for hanging too much outdoors. A little warning: if you are not a big fan of contemporary art, depending on the exhibition, you might find it "too artsy". Thus, we recommend that you check the S.M.A.K. agenda, just in case. At our visit the exhibition on show was the local artist Berlinde De Bruyckere's 'Sculptures & Drawings. 2000-2014', an exhibition with enough of the provocative elements the S.M.A.K. is famous for.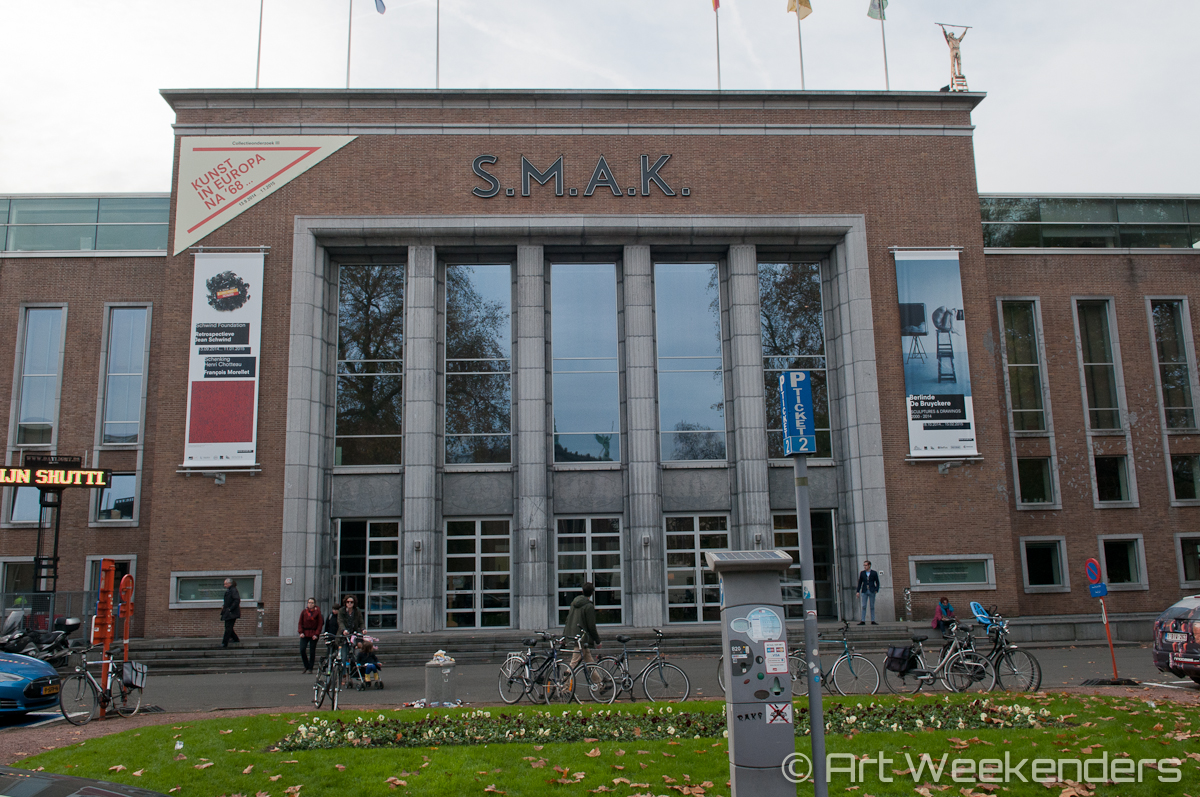 The MSK – Ghent's Museum of Fine Arts
Right next to the S.M.A.K. you will find the MSK. This is the city's fine arts museum, with roots all the way back to 1897. The building is from the early 20th century and recently renovated. This is a big museum and the collection stretches over several centuries, from the late middle ages (1350s) until pretty much today. The major part of the works are from Flemish artists. Thus you will come across many names you never even knew existed, showing the rich legacy of Flemish art. Most importantly though, the name attracting a big chunk of your attention is the famous Dutch Renaissance artist Hieronymus Bosch's.
The 30 or so rooms are organised chronologically. Go to the right and you start back in time and see the evolution of Belgian and European art. To the left you can time travel back in time, from contemporary via abstract and surrealism, expressionism, impressionism, all the way back to the middle ages.
Right now and for the coming years you have an extra bonus to look out for inside the museum: the restoration work of the "Lamb God" – see further just here below.
The Ghent Altarpiece – Van Eyck's 'Adoration of the Mystic Lamb'
Imagine for a second that Ghent would be a city in Tuscany. Now envision all the bus-loads of tourists flocking to admire one art work that changed the course of art history. The only difference is that we are in Flanders and not in Florence, but this famous piece of art is in fact to be found here.
The 'Lamb God' – as it is popularly called – is the old altarpiece of the St. Bavo Cathedral, painted by the Van Eyck brothers between 1430 and 1432. This is a very large and complex work composed of 12 panels and it's considered to be the "single most important painting ever made". Clearly, quite a big deal. The reason for this is that this work was the forerunner to the Renaissance, the first great oil painting and a a pioneering masterpiece to artistic realism.
Currently the work is being restored at the MSK panel by panel, while the remaining part of the paintings are at display at the St Bavo Cathedral. Although not at its old place as an altarpiece, rather in an adjacent room at the back of the church, protected from nature and humans alike. It has been for instance targeted by thieves several times during the centuries.
For curiosity: have you seen the recent movie with George Clooney, the Monuments Men? Well, the 'Lamb" features in there too.
The Design Museum – Modern Pieces in Classic Settings
This museum is found in the old centre, housed in a charming 18th century building just off the Korenlei. While the contrast is big, a visit is worthwhile. It has a fantastic permanent collection with many items on display, and interesting temporary exhibitions to keep the experience varied. What more can you ask from a place when even its toilet wing is something out of the ordinary…?
Art Galleries in Ghent
Belgium in general is pretty crowded with quality museums and galleries. If you are looking for art to buy, the best area to head to is the Sint Jacobs quarter. Here there are plenty of galleries and antique shops to find. With the help of the Belgian Word Magazine (trust the locals) we would like to mention some of the interesting non-profit galleries you should look for, when you really want to know what the young talent of the city is up to.
Croxhapox
One to look out for is Croxhapox, in the vicinity of the Dampoort train station. The gallery describes itself as an experimental art house and an open working place for contemporary art. Among its most celebrated achievements can be mentioned the pioneering exhibition of the now widely celebrated Belgian painter Michael Borremans.
Kiosk
Another gallery worth looking for is Kiosk. This gallery is located just south of the historical city centre at Bijloke on Louis Pasteurlaan. There are yearly four main exhibitions, with a strong emphasis on the creative process and the artist's individual track. What seems to be an important detail to mention here is the willingness of the gallery to take its time for putting on an exhibition, in close cooperation with the artist, to make the best out of it – a moment in life.
These things take time
OK, we mention one more. These things take time is just a short walk down from the Graslei on Nederkouter street. We like the name, so that's one. Also, the concept is interesting, where social and institutional issues are often addressed.
Art all Around Town – Ghent Street Art City
Ghent is an exciting art city in aspects outside its museums, galleries and churches too. It is a miniature street art capital of Belgium. Here the street art craze is on such a level that even the Ghent Tourism Board embraces it all by having created a street art tour, with a map and all. We walked through a good part of the route. The result of it you can find in our post Street Art Corner: Ghent.
Ghent is the home town of one of Europe's most famous streetart artists, ROA, an artist taking his influences from nature and activism around it. Thus, maybe no surprise that the city embraces street art. Maybe it is also a sign for the quirky spirit of Gentenaars in general. Whatever the reason, it is a fantastic tour. We warmly recommend it to everyone. So download or print your map, rent a bike (we advise you to do so, since it is quite a long tour), or if you feel that you have strong legs go for it, there is plenty to explore.
The good part of this street art tour is that most of it is taking place in close interaction with the rest of the city's sights. Thus you can mix your "street art safari" with general sightseeing. It is one of our strongest recommendations for the city, so we think you should go for it!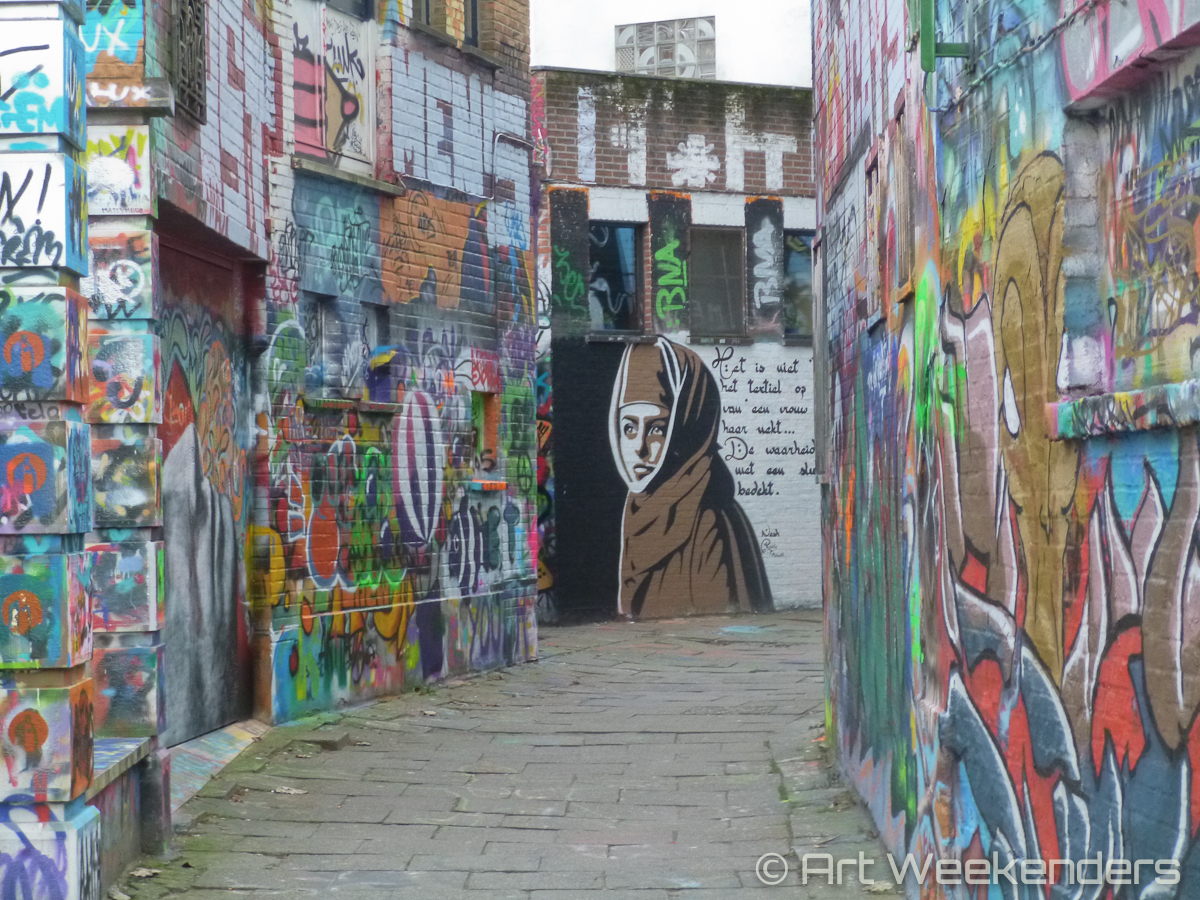 For the ones short on time – or lacking strong legs – there is an alternative. Ghent's "graffiti alley" is also a worthy spot to hike to, especially since it is just a few blocks from where the rest of the city's highlights are found. Just head to Werregarenstraat and enjoy. Bring your own spray-can if creativity strikes you, it is free for all. Maybe not all of what you see here will be of the highest quality, but there is always something new to discover and the bright colours will definitely cheer you up.
Culinary Ghent – Where to Eat When Your Legs Get Tired
As you might know, the Belgians like to pride themselves for having some of the best restaurants in Europe. You could easily lose count of all the Michelin stars the country accumulates. Bring along the best of the French influences and mix them out with northern European sturdiness and there you have it: some of the best food you can find in the world – and now we don't only talk about moules frites, fries and waffles. Ghent, of course, won't disappoint either. There are both local specialties to choose from, and plenty of nice places where you can enjoy the local and international delicacies. So what and where then? Let's have a look.
What to Eat in Ghent
Since you are travelling, you can just as well search out the diverse, local varieties you wouldn't find at home. The best and hippest restaurants might rapidly change in any city, the local traditions are there to stay. Ghent is a great spot in that respect. There is plenty of local flavour that you can't find in many other places.
Waterzooi – Heritage from the Middle Ages
The most distinct local delicacy is a soup with a history stretching back to the Middle Ages. Originally made with fish from the local rivers, later it was also made with chicken. This creamy, vegetable-rich soup can be found all around town. It is up to you if you opt for chicken or fish, both versions are tasty.
Stoverij – A Beer-rich Stew for Winter Days
So you like your French fries – sorry Flemish fries! Well, a good way of enjoying it a little bit more is to choose a rich, regional stew to accompany it. Stoverij – also called Vlaamse stoofkarbonaden – is a rich and flavour-rich stew made of beef, onions, mustard, bread, bay leafs, and not to forget local beer. In Ghent the local chefs will likely add kidneys and livers to your stoverij, just so you know.
Ganda Ham – Strong Rival to Parma and Spain
We mentioned before the original Celtic name of Ghent being Ganda. The local ham carries on the historic tradition where not only the name has an important role, but the way the ham is cured. The production process takes from nine to fourteen months, depending on the size of the ham and taste-wise as they say: it's worth waiting for. Watch out Parma, there's a serious contender here.
Ghentse Mastellen – The Local 'Bagle'
If you are just looking for a quick snack, a delicious, sweet and crispy mastel can chase away your hunger easily. Traditionally only available at the Patershol festival in August, these days you can find this sweet bread-snack all year round. Flavoured with a hint of cinnamon, these breads were traditionally "ironed" flat by the local ladies. Its history goes back to the 12th century and what could be better than eating and staying rabies-free: a blessed mastel supposedly protects you from the disease…
Cuberdons or "Neuzekes" – A Real Temptation on Ghent's Streets
Walk around town and you will soon enough see carts selling some purple, cone-shaped marvels that people rush to buy. This is the local delicacy called cuberdon, or 'neuzekes' if you are more Flemish-inclined, meaning little noses. These soft raspberry-filled sweets are a real treat and we warn you it is easy to get hooked on them. But be warned, they are not coming that cheaply, a little big on the street will cost you about five Euros.
You would like quality, right? Inspect them before buying. If they are blackened and/or cracked they're not fresh anymore. They must be eaten within three weeks from production. After that they get crystallised on the surface. For real quality head to the the Temmerman Sweet Shop on Kraanlei 79, a real Ghent institution. It is a "gingerbread-house" and besides cuberdons you will find cookies, waffles and yes, gingerbread too.
Ghent – The Veggie Capital of Europe
There are often reasons for calling this or that city a food capital. Ghent is no exception. The city is often called the veggie capital of Europe and it's highly justifiable. It even has a city-wide dedicated day for it: Thursdays are 'Veggie-days". The city actively promotes it and among the key reasons for it they mention that it is good for your health, your taste buds, our planet, for others and of course for the animals. Whatever the reason, the options are plenty, be it for luxury or for eating  on the cheap.
De Appelier is a fully vegetarian restaurant and a pioneer of vegetarian food in Ghent. It is located just steps from the museum area on Citadellaan 47.
Eating on the High-End Side of Town
Ghent happens to have four Michelin-starred restaurants at the moment. On of them is Publiek on Ham 39, in the east of the centre. Despite the "stardom" every day Publiek  keeps 25% of its tables free for last-minute guests, and it offers a 25-euro lunch menu.
The city's oldest Michelin-establishment is restaurant 'Jan van den Bon' on Koning Leopold II-laan 43, just off the Citadelpark. Located in an impressive mansion, this has for decades been Ghent's finest, featuring French-Belgian cuisine, using seasonal produce partially grown in the restaurant's own back-garden.
Two other Michelin-star-restaurants are Vrijmoed – on Vlaanderenstraat 22, not far from the St. Baaf Cathedral – serving sustainable, vegetarian oriented French-Belgian food in an art-deco environment, and Horseele inside the city's football stadium… (yes, really) in a modern setting with a fair-trade approach to cooking.
Good Mid-Range Eating Choices
Maybe Michelin-stars are not on everyone's agenda. Options are plentiful in any case, so it should be easy to find something you like, even if you start wandering around just randomly exploring. Here for some little help on the road, the result of our own research through the city's foodie-jungle.
Keep on walking west from the Gravensteen for about ten minutes and you will come to one of the city's hip places, Volta. Top-class, relaxed atmosphere with reasonable priced delicious meals.
Yet another classy informal bistro-style restaurant is De Vitrine, on Brabantdam 134, nearby Ghent's red light district (hence the name, right?). The man behind the place is one of the country's best chefs and the prices are reasonable – a pretty good combo we think.
You would like one more tip? Here we go then: Naturell, one from the city centre (Jan Breydelstraat 10). Just around the corner from the Design Museum (see above), this is obvious the place-to-be for foodies. From what we have seen, we believe them.
Ghent on the Cheap-Eat Side
It would be a mistake to think that Ghent is only about expensive restaurants. There's plenty for everyone. Be it for budgetary or for time restraints, you will find something without too much hassle. Ghent is also a student city (remember, 60,000 of them are studying here), so you will have plenty of good options for the small budget too.
You will easily find affordable bistros around the main squares of town, or in small alleys all over the place. So instead we focus on pointing you to some what we think are more unusual spots. First a few quick and great-value spots: Ghent is a vegetarian hub, and also a great place for soups. There are at least two we can highly recommend: Soup'r on Sint Niklaasstraat: very friendly, very tasty, and yes, very popular. It might be an issue finding a spot in this small place, but if you come outside rush hours you will be fine.
Another soup place, just off the Vrijdagsmarkt, is Souplounge. They offer four kinds of soups daily, but you can personalise them by adding your own ingredients. Best spot to sit is upstairs from where you can enjoy nice river views while slurping up your soup.
What about a trip to Belgium without eating fries? Impossible. If you are looking for a bit different style of it, the spot you will have to head to is De Frietketel on Papegaaistraat 89, some ten minutes outside the historical centre. Ghent, remember, is a veggie capital, so these fries, unlike the usual ones you get around the country, are cooked in vegetable oil and not the usual ox or horse-fat (yes, that is really true of the main method). Potatoes are sliced fresh, nothing would ever be deep frozen here. And the accompanying sauces are both tasty and a good exercise for trying to pronounce difficult Flemish/Dutch words.
Ghent – The Real Home of the Waffles
We guess you have been told that waffles are from Brussels, but you see, this is not correct. It is an invention from Ghent and the best place for enjoying it is a place called Max on Goudenleeuwplein 3.  It is the sixth generation who is baking the gouffres here now since its establishment in 1839. It is right in the heart of the city, and yes, it is quite touristy, so be warned. But the original waffles are from here, just so you remember.
Belgian Beer and More Fun Around Ghent
All this reading, you say, and still we have barely mentioned anything about Belgian beer. So here we go, time to focus in on the important things. You shouldn't be too worried, you will find Belgian quality brew pretty much everywhere. There are a few specialties that you should keep an extra eye, or lip, on though. Let's start by figuring out where you should go first.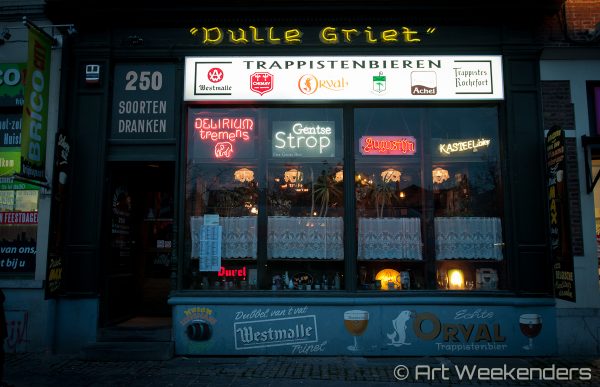 Ghent's Best Beer Pubs
The city is quite clearly well-served by pubs. It is Belgium and a student city, so there are all kind of reasons for it. If you want to start off your visit in Ghent by finding the most traditional of the beer pubs in town we recommend you to head straight to Vrijdagmarkt number 50 and dive into the "De Dulle Griet". Here you will find Ghent's most extensive selection of beers, around 250 different brands to choose from. It has an atmospheric medieval interior, where cartwheels and furniture form the past will easily make you believe that you time travelled.
Some peculiarities of the place: you don't order at the bar like you'd do in most pubs; the waiter comes to your table. Secondly; would you like to drink a "Max" poured into a bootshaped glass? Exchange your shoe for it, just take it off and put it on the table, the staff will know what you mean.
Another traditional "brown cafe" where you can find almost as many different beers is "Het Trappistenhuis" on Brabantdam, in the south-eastern part of town. This is a pub where likely your beer will be accompanied by a chat with a local.
To mention one more of the traditional beer houses in town, we can just as well pick the oldest existing café in town: "Cafe Den Turk". Located nearby the Botermarkt, this is a spot where local politicians show up as well and the place is also known for the famous local arrogance. We are not fully sure if the two would by any chance be interlinked here.
Ghent's Best Beers! (And Not Only)
You found the pubs, so you are wondering which beers to order. A beer that is VERY frequently considered as the best beer in the world is originating from a neighbouring town: Delirium Tremens . The beer comes from Melle, a town just outside Ghent and is brewed by the Huyghe brewery. This golden blond "Belgian" is 8.5% in strength and very tasty. Its label is dominated by a pink elephant and you will see it a bit everywhere if you now pay attention. The name, by the way, was a bit too much for Americans and even Canadians for a while, so the DT got banned for some time on the other side of the Atlantic.
If we carry on on the theme of slightly peculiar names – but more for sound reason – there's Gruut. The Gruut Brewery, located centrally on Grote Huidevettershoek 10, is rare in the sense that it's a brewery not using hops. Instead they use a mix of spices called just that, "grout", for making beer. Technology is all modern, but methods traditional, and the outcome great. Currently they produce five different beers: a white beer, a blonde, an amber, a brown and a beer called Inferno (you have been warned).
In case you are not a huge beer drinker (but we hope in Belgium you do experiment a bit in any case) there are alternatives. For instance there's the local RoomeR. This is an elderflower-flavoured specialty, almost 15% strong, used as an aperitif, cocktail or with deserts, found mainly at one spot in Ghent on Krevelstraat 3 (in the south-east).
Ghent for Some "Special" Shopping
Ghent is a pretty good shopping city. No wonder then that the locals are considered well-dressed. While we are not considering ourselves as shopping experts, we don't want you to think that we don't want you to contribute further to the local economy. There are some great shopping areas for visitors to look out for:
Art, antiques & bric-a-brac: if you are in the mood for the artsy finds, head to Jan Breydelstraat and Burgstraat.
Fashion & interior design: head to the Zuid around Brabantdam and Vlaanderenstraat, there will be good spots for a bit of eclectic but also more mainstream.
Luxury: head straight to Henegouwenstraat. If your wallet can afford it, you won't be too disappointed.
Mainstream and for everyone: the long street of Sint-Niklaasstraat and Bennesteeg has a bit of everything, what you are used to and more.
Ghent's Local Specialties to Take with You Home
What would a trip to Belgium and Ghent be without mentioning chocolate? If you are looking for that little bit of specialty that you won't find anywhere else, we strongly advise you to find your way to Yuzu. The owner and brain behind Yuzu, Nicolas Vanaise, has a totally different approach to chocolate then what you would expect, with strong Asian, minimalistic influences. It's more art than chocolate, almost. Curious? Find out more in this article and go visit the shop on Walpoortstraat 11a.
If your taste is less "sweet", you might fancy mustard. While it might not sound that overly exciting, it really is. The Tierneteyn-Verlent shop has been around since 1790 and it might look more like a pharmacy than a delicatessen from the outside, but it is a place filled with mystery – almost like alchemy! No preservatives are used here and once you tried the mustard from here, you won't even look at at a jar of Dijon again.
Ghent – A Bed for a Rest
Understandably, we won't be able to tell you everything about all the hotels in town, and we are sure you don't want us to do that either. What we can tell you is that there's plenty of good options in town. In the centre prices might be a bit steeper, but with some planning ahead you'll be all sorted. We do, however, have some good recommendations.
We stayed one night at the NH Sint-Pieters, a comfortable, stylish hotel in between the Sint-Pieters Station and the city centre (20-25 minutes walk). It's highly recommended, we enjoyed pretty much everything about it.
We also spent one night in a different location, just because we like it that way. We tried something totally different, we left the city centre – by tram! – and suddenly we found ourselves in the middle of the countryside, just a short distance out from the city, in Evergem at the Eremytenhof. This converted old farmhouse is beautiful, comfortable, with character and friendly service. The property and the land it sits on is beautiful, geese are "guarding" you (hehe) and the owners happen to be the only Beatles tapestry producers in the world. We would like to say, it is a real find.
Conclusions to our Ghent Guide
If we conclude by saying that Ghent quickly became one of our favourite European cities we are probably not exaggerating. It is beautiful, charming, interesting, engaging, inviting. And much more. So if you consider going there, I think we can assure you it is a good choice. In this guide we try to cover as many aspects of the city as we can, but we are fully aware that there are different tastes and different opinions. If you go and find something you like tremendously please leave a comment here below, or send us an e-mail. We will happily add it to the guide.
Also, while here we cherry-picked what we think are some highlights that can make a visit to Ghent something extraordinary, we can imagine that you might want to know more. In that case, the best source we can recommend is what the city of Ghent has on offer for you. visitgent.be is full of good information and there's not much you won't be able to find.
So What Makes a Trip to Ghent Worthy?
To conclude, let's do a final cherry-picking from the cherry-picking. Here is what we suggest you to do:
Rent a bike and get the Ghent street art map and hit the tour. You will cover both street art and most sights of the city easily and in a fun way.
On a Sunday afternoon go and check out the S.M.A.K. if you are into contemporary art, or the MSK if you like your art a bit more with saints and landscapes on them. Or do both, doable in half a day.
Enjoy some cuberdon. Buy one bag and then another one…
By night hang out at the Korenlei and then head to the Gravensteen castle and find a restaurant thereabout. Or just head to one of our recommendations from above – book ahead if you can.
Discover on your own. Explore. And then share your new finds with us.
Ghent is a lovely city, highly likeable and with more to see than you might expect. So why not plan several visits if you can. We sure will.
Finally and most importantly: be an art weekender, travel and see, learn and share. Our world, our cities and cultures are more beautiful than we sometimes realise.